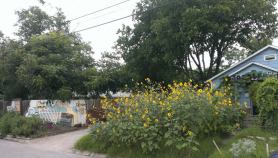 Posted on October 10, 2014 by foodisfreeproject in Food is Free Blog

Friends and Food Liberators, We need your help! Yesterday our landlord of the Food is Free Project (501c3 nonprofit) urban teaching farm stopped by to tell us that someone has made a $450,000 cash offer on our 1/2 acre property in Austin, TX to tear it down and redevelop. It wasn't even on the market. […]

No Comments. Continue Reading...