The GardenWorks Project
Posted on June 3, 2014 by foodisfreeproject in Food is Free Blog

We're excited to share a story of inspiration and community action by: Tina Koral, Founder of The GardenWorks Project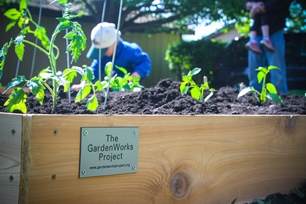 It all started on a routine trip to the library with my kids, when I spotted the book Reclaiming Our Food, by Tanya Denckla Cobb, in the new-releases section. I have a strong interest in homegrown food and improving our local food systems, so I checked it out without reading anything more than the title.
It proved to be a serendipitous find, because it changed my life.
In the last few years, I thought I had found my calling career-wise in the field of landscape design. I love designing gardens and have met some incredible people since I started my business. But I wanted to do more. So when I opened this book and read the very first section, "Giving Gardens to People in Need," which highlighted Dan Barker's Home Gardening Project, I was intrigued. Building vegetable gardens for families in need would not only help those who needed it most, but would combine my love of horticulture with my husband's interest in carpentry while providing a volunteer activity that we could do with our two young kids.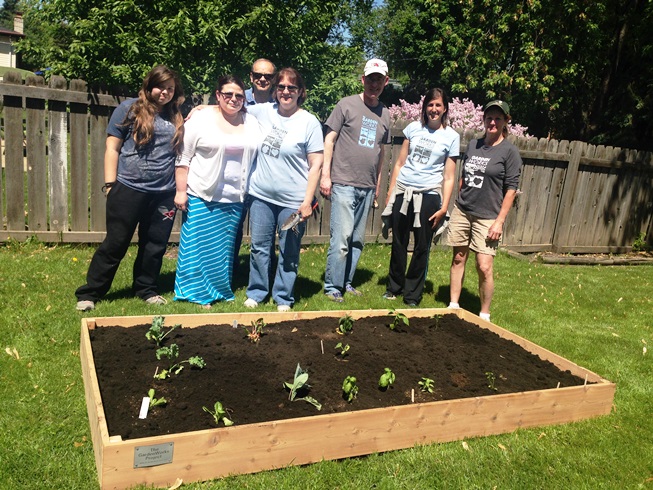 Although we live in one of the wealthiest areas in the country, there is still hunger and poverty in Chicago's west suburbs. In DuPage County, over 95,000 people go to bed hungry every night. Of those, over 45,000 are children. Over 45,000 are children.
Having kids of my own, this statistic floors me. It's unbearable to think about kids going without even the most basic human need – food – in the suburbs of Chicago. I firmly believe that fresh, organic food is a basic human right, and knew I could make a difference.
Since food pantries often have difficulty obtaining and storing fresh produce, we knew that building gardens was a good place to start. We committed to building four 4'x8' raised-bed vegetable gardens and providing the soil, plants, and support the families might need to get started. We approached our local food pantry for help identifying families in need of food assistance, and they were enthusiastic. We called it The GardenWorks Project.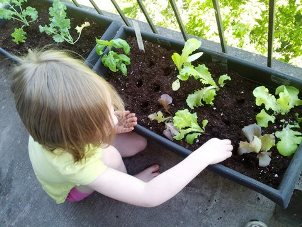 By the end of 2012, we had built four gardens, emptied eighty bags of soil and compost, planted thirty vegetable seedlings, and taught seven adults and seventeen children how to grow their own food. I was able to step outside of my busy life, which I admit was focused mainly on my little family, and do some good for someone else. And that has given my life balance and satisfaction in a way that I've never experienced before.
In 2013, we amassed a group of like-minded volunteers and refreshed those four gardens with new compost and seedlings, and built ten more gardens at the homes of food pantry clients. We also grew organic produce in a community garden and donated everything to the food pantry.
This May was The GardenWorks Project's biggest ever. With the help of 55 volunteers, we installed 22 new gardens and refreshed some from last year, and planted our community garden space. So far, we have built 36 gardens that we hope will impact the lives of nearly 120 people who now have access to their own garden and all of its bounty. Each family is paired with a volunteer garden coach who is available to answer questions and offer advice. We are simultaneously exhausted and exhilarated.
I am so inspired by the Food Is Free movement and all of the people who share their homegrown produce with others. I truly believe that everyone should grow at least a portion of their own food. But it's not enough to grow it; we must also give, and inspire those around us to grow food too.
When my husband and I started the project three years ago, I had no idea where it would go. And even though, with the help of our donors and volunteers, I have given away lots of gardens, the person that has received the most…is me.
If you have an interest in building gardens for your neighbors in need, I'd be happy to share more about how I did it. It's my way of paying it forward, Dan Barker расчет кондиционера в витебске style Just email me at gardenworksproject@gmail.com.
Tina Koral, Founder of The GardenWorks Project
Website: www.gardenworksproject.org
Facebook: www.facebook.com/thegardenworksproject