Abundance in the Front Yard
Posted on April 6, 2015 by foodisfreeproject in Food is Free Blog
---
Guest Blog Post by Ally Weinrauch
Redcliffe, South East Queensland, Australia
 
Behind the noise of traffic on the main road, behind the clatter of close
proximity neighbors and groups gathering at the bus stop, behind the loudness of
the urban density which is our city I can hear hens scratching for bugs. I can hear
warm sun hitting soil and I can hear the unfurling of tendrils as they reach for fence
palings. Well, I can't actually hear that part but I know it is happening and I thank the
gods of all that is productive and good that it is. Most of all I thank myself for taking
the Food is Free ethical passion and turning it into a lifestyle reality.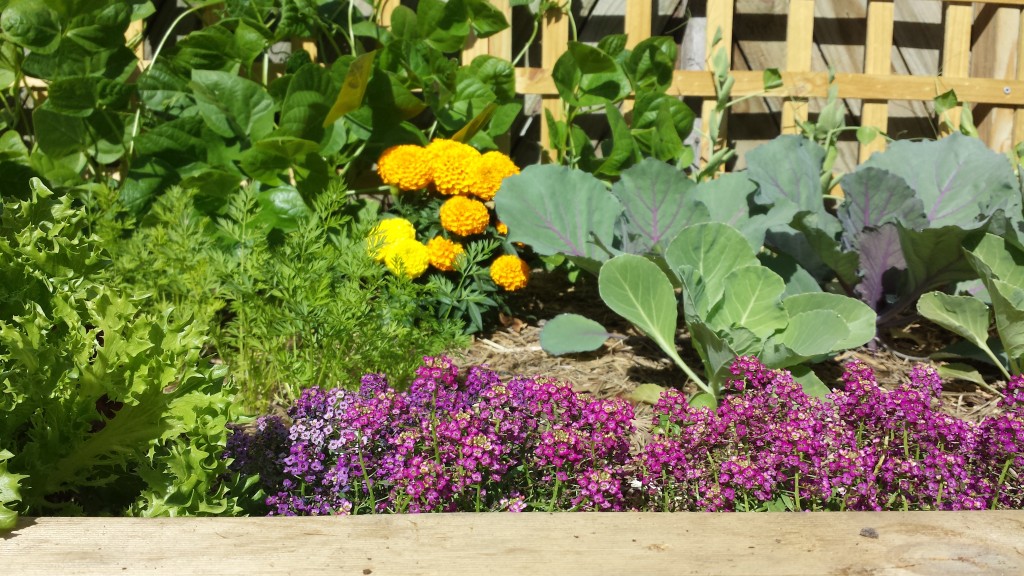 Last year I was in the final stretch of my degree in Community Development
and became overwhelmed with exam pressure and heavy with academic life. I
needed to be 'earthed' and 'real' and to return to the physical exertion of outside.
With gentle provocation the hub-star designed and constructed a 9 meter by 1.5
meter raised garden bed on the verge for me to sink my toes and fingers into. Two
powerful growing seasons later, our patch on the footpath has absolutely fulfilled its
purpose and more.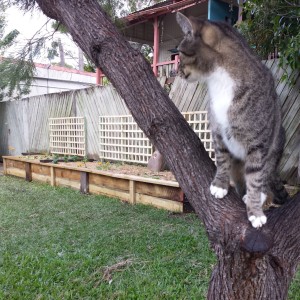 Untreated sleepers were screwed together to form the box to a height we
were comfortable bending to (I love climbing all over the garden so any height would
have been fine with grubby old me). Lattice was attached to our front boundary fence
to allow tomatoes, peas and beans to ramble upwards as they do. The bed was
mulched well as we live on a coastal peninsula in South East Queensland where
days are long and hot and rain only comes in floods and Summer storms. Seedlings
were sourced from a local organic farmer with a solid reputation for healthy disease
free stock. Worm farms were established and a steady flow of worm wee feeds crops
to save from purchasing fertilizers. Marigolds and nasturtiums are interspersed with
plants to attract bees and deter pests. We compost all kitchen waste in a pile we
turn, wet and top up weekly also. Alongside these activities self-reliance and
confidence began to build.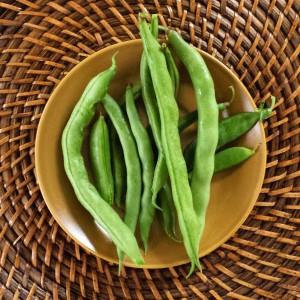 Abundance is high in the food we harvest, baskets heaving with tomatoes,
snap peas, cucumbers, cabbages, lettuce, spinach, beans, capsicums, herbs,
berries, the list goes on.  Yet the instant connection which community members
make with our venture has been the real gift. From inside my home, behind the cars,
trucks and busyness I can hear uplifted voices as someone picks a cherry tomato,
sun warmed and flavorsome, and pops it in their mouth. When I am working in the
garden I offer handfuls of basil, parsley, chives and spring onions when neighbours
stop to chat and ask questions about how they can grow food at their place. The
movement to decentralize food supply and reclaim accountability for our lives is
beginning with food. I now seed save and take so much pride in opening the hand of
a new friend as they stand by my garden and tumbling 20 or 30 seeds into their
palm. Hovering in this moment I see people turn into children and stoop their faces to
get closer to the magic they hold in the palm of their кондиционеры сплит системы с установкой в витебске hand Alive and hopeful are
faces as they recognizing that the good things in life can be free.