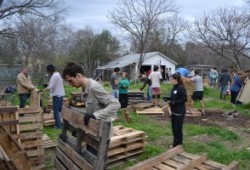 Posted on March 1, 2012 by foodisfreeproject in Food is Free Blog, Joe Sayers Project, Workday Events

It's happening! This Saturday we are wrapping up the pilot block of Food is Free. We will be installing the final 10 front yard community garden beds on our block, leaving 2/3 of the block lined in gardens. Heck yeah! Where: The Food is Free house – 5608 Joe Sayers Ave Austin, TX 78756 When: […]

Comments Off

on Food is Free Workshop and Pilot Project Completion! 3/3/12

Continue Reading...