Garden Hosting
We are now installing wicking garden beds made from salvaged materials around Austin, Texas!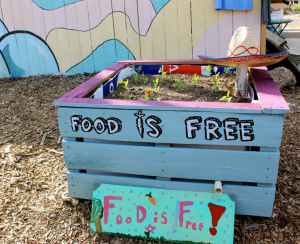 Details:
Currently, we are able to provide these for free. We would like to focus on areas in high need of free food (such as East Austin) and areas with good visibility
Each bed is different due to variations in materials and the creative visions of our volunteer painters! Of course, you can and are encouraged to participate in the making your bed!
Sign Me Up!
Why a Wicking Garden Bed?
* Saves more than 50% of water compared to a conventional garden bed
* It stays clear of weeds, root systems, invasive neighbors
* The wicking effect causes continual automatic watering
* Suitable for small patio space for those who live in apartment or town home
* Only water once every 2 weeks or less
* Can be maintained by a low pressure water system, grey water drainage