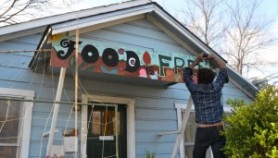 Posted on February 1, 2012 by foodisfreeproject in Uncategorized

In just four short weeks, we will be transforming a full block in Austin from a food desert to a food forest, growing food and community and empowering and informing you how to do the same on your block! Join us this saturday, February 4th, 2012 as we pilot the Food is Free neighborhood model […]

Comments Off

on Saturday, 2/4/12: Food is Free Pilot Project Workday 2 + Wicking Bed Workshop and Potluck!

Continue Reading...