Food is Free Officially Unofficial SXSW Showcase at The Recharge 3-16
Posted on March 15, 2013 by foodisfreeproject in Food is Free Blog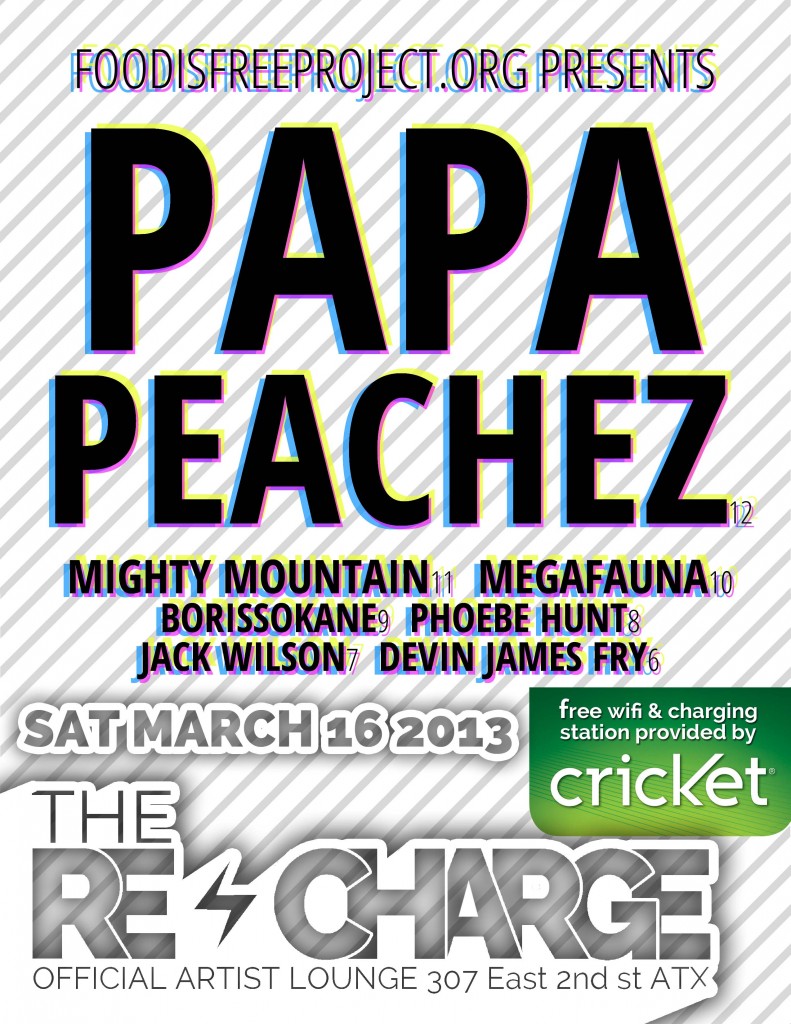 You're invited! Free show brought to you by foodisfreeproject.org!
The Food is Free Project teaches you how to meet your neighbors, grow food together, share the harvest and create a l
ife that excites you.
Come out to the free officially unofficial showcase March 16th at The Recharge.
http://www.facebook.com/foodisfree
We'll have seed ball workshops, demos, and tons of games.
When: Saturday, March 16th at 5pm
Venue: www.facebook.com/TheRechargeLounge
307 East 2nd St, Austin, Texas 78701
facebook event: https://www.facebook.com/events/436797236401186/
6pm – Devin James Fry of Salesman – www.facebook.com/SalesmanATX
7pm – Jack Wilson – www.facebook.com/pages/Jack-Wilson/166190303412859
8pm – Phoebe Hunt – www.facebook.com/phoebehuntmusic
9pm – Borrisokane – www.facebook.com/borrisokane
10pm – Megafauna – www.facebook.com/mymegafauna
11pm – Mighty Mountain – www.facebook.com/mightymountain
12am – Papa Peachez – www.facebook.com/PapaPeachez
1am – Special Guest
Show is free and all ages.
If you'd like to volunteer at the event show up at 5pm and find the Johns, we're looking for folks to help run the seed bomb stations, spread the word about the project and help with стоимость кондиционеров в могилевской области merch
Thanks again and we'll see you tomorrow!
Best,
The Johns