Food is Free Project featured on the Austin Community Garden Tour – April 28th
Posted on April 25, 2012 by foodisfreeproject in Food is Free Blog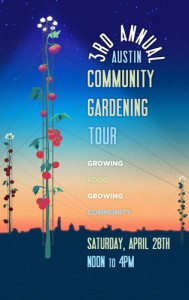 We are honored and excited to open up our block and community farm to the community this Saturday, April 28th. Come walk our block that we've lined in front yard wicking bed gardens that provide fresh food for our community.  Stop by and see our Urban Patchwork CSA plots, a hugelkultur meditation labyrinth farm, our 27 chickens and salvaged coop, community composting program and aquaponics demonstration.
Community gardening is on the rise in Austin! Join us for the 3rd Annual Austin Community Gardening Tour on Saturday, April 28th, from 12 – 4pm. This free, friendly-to-all-ages, open-house style tour provides the opportunity to visit an inspiring array of gardens throughout the Austin area where participants are growing food and growing community together. Get on your bike, in your car, or on your feet and check out this showcase of urban food-growing strategies! Enjoy instructional talks, celebrations, kids' activities, and the opportunity to get your hands dirty by helping at a work day along the way.
Presented by: The Coalition of Austin Community Gardens, Sustainable Food Center, the City of Austin Sustainable Urban Agriculture and Community Garden Program, and the Congress for the New Urbanism.
For more information and a printable map of participating gardens, visit http://communitygardensaustin.org/?page_id=605
Facebook event: http://www.facebook.com/events/344444642260356/